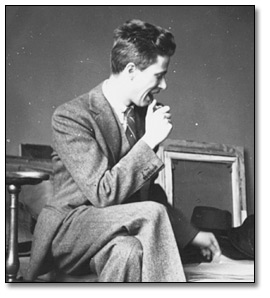 Click to see a larger image (159K)
Franklin Arbuckle, March, 1939 (detail)
Black and white photograph
Photographer unknown
Reference Code: F 1066-6
Archives of Ontario, I0010290
The artist was a member of the Ontario Society of Artists and the Royal Canadian Academy of Arts (Pres., 1960-64). He executed major murals and tapestries for the Hamilton City Hall; the Royal Bank of Canada, Toronto; and the Chateau Champlain, Montreal. The recipient of several awards, Arbuckle was, for many years, an instructor at the Ontario College of Art.
The acrylic on canvas mural displayed here, characteristically figurative in style, has been described as a fantastic representation of a northern forest. In this forest suspended in space, the viewer will note the highly stylized leaves of the trees and the wonderful collection of imaginary birds.