Louis Archambault was born in Montreal, Quebec in 1915 and died in 2003. He received a B. A. from the University of Montreal in 1936 and a diploma in ceramics from the École des Beaux Arts, Montreal in 1939. The recipient of three Canadian Government fellowships, Archambault was awarded the Royal Architectural Institute of Canada Allied Arts Medal in 1958.
His work was exhibited internationally at the Venice Biennial, 1956; at the Brussels World Fair, 1958; and elsewhere. His completed commissions include sculptures for the Pearson International Airport, Malton, Ontario; the Ottawa airport; and Expo '67, Montreal. He was a member of the Royal Canadian Academy of Arts.
Man and Woman, the sculpture displayed here illustrates the artist's desire to remove all non-essential elements, thereby leaving the meaning of each piece self-evident.
The style of the two pieces demonstrates Archambault's cool, formally refined approach to sculpture which developed from his involvement with symbolic, archetypal subjects.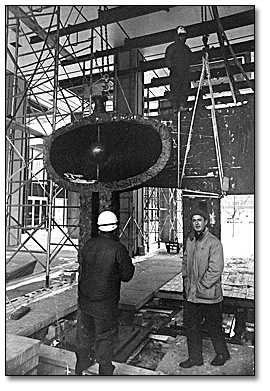 Louis Archambault oversees the installation of his sculpture, Man and Woman outside the entrance to the Hepburn Block, 1968 (detail)
Government of Ontario Art Collection
Archives of Ontario