There are also records from private sources, such as the children's painting book published by the St. Lawrence Starch Company Limited.
Although printed for children, adults will find trivia about Royal symbols interesting. According to this publication by St. Lawrence Starch, St. Edward's Crown was made in 1662 to replace the Confessor's Crown destroyed in 1649.
To see more pages from the colouring book visit our Just For Kids page.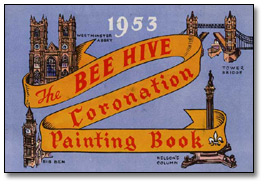 1953 The Bee Hive Coronation Painting Book
St. Lawrence Starch Company Limited fonds
Beehive Diamond Corn Syrup is a registered trademark
that is now owned by ACH Food Companies, Inc.
Reference Code: F 4392-3-2
Archives of Ontario
The Union Jack is actually comprised of three flags designed for three patron saints - St. George of England, St. Andrew of Scotland and St. Patrick of Ireland.
For more information on the St. Lawrence Starch fonds, click here.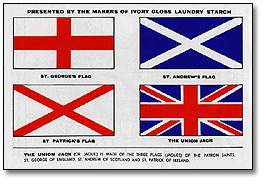 Another rich source of official interpretation of symbolic meaning can be found in the Empire Day pamphlets published by the Ministry of Education.
The 1955 issue details the dos and don'ts of flag waving etiquette and the 1956 issue explains the significance of the provincial coats of arms.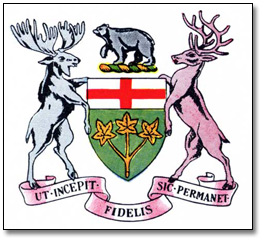 Click here to see a larger image (52K)
Ontario Coat of Arms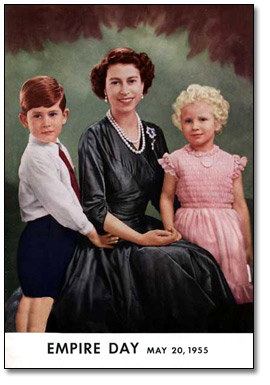 Cover of the 1955 Empire Day Pamphlet
Pamphlet 1955/no.26
Archives of Ontario