The Ontario Factories Act of 1884 was the first legislation in Canada to address industrial safety and introduced safety inspections. While factory workers' health and safety benefitted from some meaningful improvements throughout the early 20th century, many remained poorly protected overall, toiling in hazardous conditions without basic modern safety equipment and without a social safety net of programs like universal health care.
Click to see a larger image
Bell Telephone, Winona, Ontario – employee standing at top of telephone pole, [191-]
Harry Beattie fonds,
C 278-1-0-1-4
Archives of Ontario, I0021357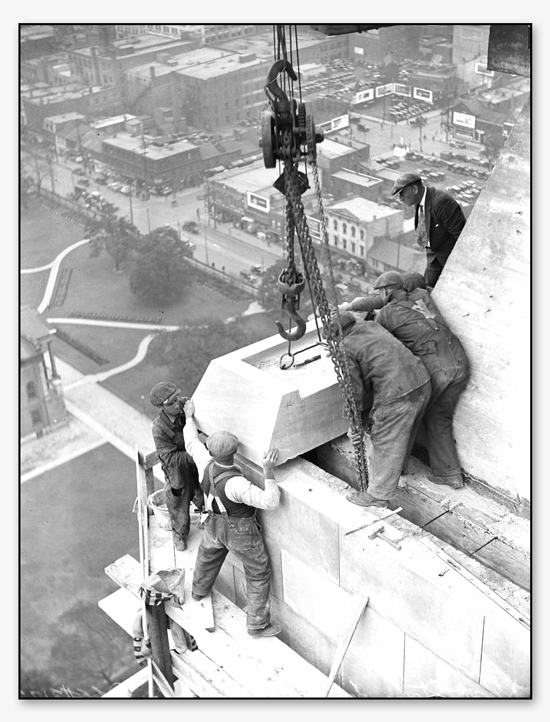 Click to see a larger image
Workers raising last stone to top of Canada Life Building, looking southeast, 1929
Fonds 1244, Item 3182
City of Toronto Archives


On March 17, 1960, near what is now the York Mills subway station in Toronto, a watermain tunnel under construction collapsed and killed five workers - Pasquale Allegrezza, Giovanni Corriglio, Giovanni Fusillo, Alessandro Mantella, and Guido Mantella - all members of the city's Italian immigrant community. In response to public outcry over what became known as the "Hogg's Hollow disaster," the provincial government formed a Royal Commission to examine how it could reform worker safety regulations.
In 1964, the Industrial Safety Act defined "safety" as "freedom from injury to the body or freedom from damage to health." The law required employers to take precautions as were reasonable in the circumstances to ensure the safety of every person in their establishment.
The legislation, however, did not provide workers with opportunities to participate directly in developing or enforcing the law. In 1978, the Occupational Health and Safety Act encouraged workers to play an active role in law enforcement; it also continues to evolve to ensure safe and healthy workplaces.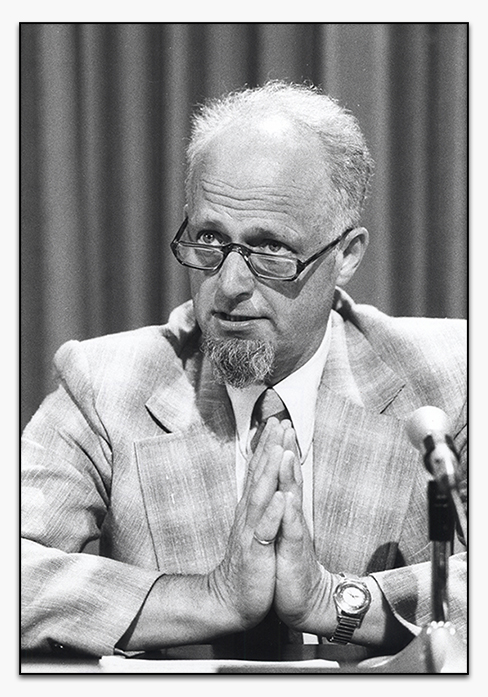 Click to see a larger image
James Ham at a press conference on the release of the Royal Commission report, 1976
Courtesy of the University of Toronto Archives


Illness, accidents and deaths of miners at Elliot Lake spurred the next step in worker safety in Ontario. In 1974, workers at a uranium mine went on strike to protest unsafe working conditions and the high rate of respiratory diseases like lung cancers and silicosis.
In response, the government formed another Royal Commission to study and recommend improvements to health and safety, appointing Dr. James Ham as head.
The Ham Commission led to the Occupational Health and Safety Act. Passed in 1978, it is the most comprehensive law to protect workers in Ontario.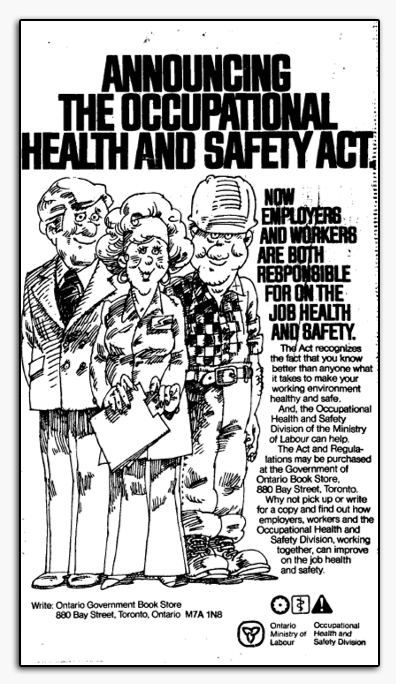 Click to see a larger image
Newspaper ad announcing the Occupational Health and Safety Act, December 3, 1979
Courtesy of the Ministry of Labour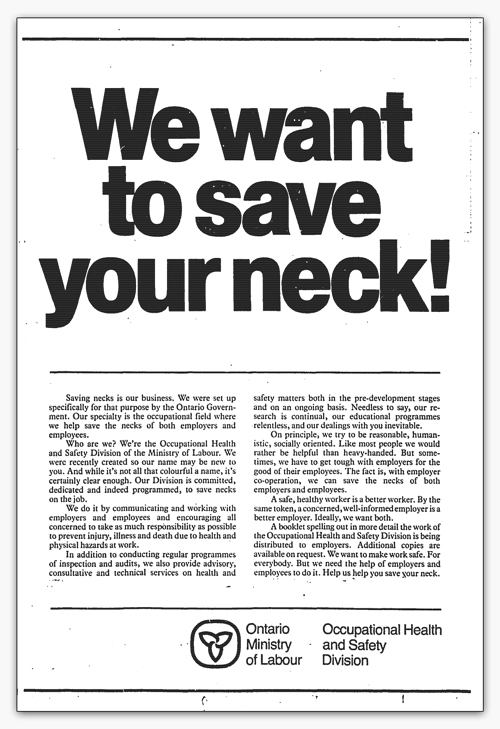 Click to see a larger image
Occupational Health and Safety Division advertisement, 1979
Courtesy of the Ministry of Labour


The Occupational Health and Safety Act was the first and most comprehensive law to protect workers in Ontario. Since 1978, OHSA has seen a number of additions – the Workplace Hazardous Materials Information System (WHMIS) in 1987, the right to refuse or stop unsafe work in 1990, the inclusion of farming operations in 2006, violence and harassment protections in 2010, and amendments to permit the creation of the ministry Prevention Division in 2011. As of 2014, as a result of OHSA all workers in Ontario are required to take basic health and safety awareness training.  
In this Exhibit -