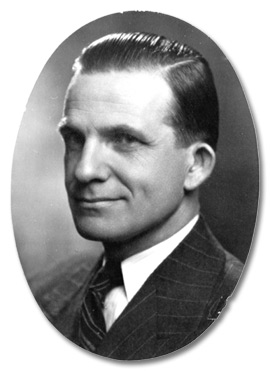 Alexander Albert MacLeod
RG 15-54-1
Photographer Unknown
Archives of Ontario


Alexander Albert MacLeod (1902 -1970) was a steelworker, soldier, politician and human rights advocate in Ontario. He was born in Black Rock, Nova Scotia, and in his early teens went to work in the Sydney Mines steel plant.
At the outbreak of World War I, he enlisted and served with the 185th Battalion Cape Breton Highlanders.
MacLeod later moved to Chicago and edited various left-wing journals. When the civil war in Spain began, he returned to Toronto and spent much of his time raising funds and support for the Republican cause.
He was involved in the founding of the Canadian Committee to Aid Spanish Democracy becoming its chairman, and in September of 1936 he led the Canadian delegation at the Collective Security Congress in Brussels.
He was elected as a member of the Ontario Legislative Assembly for Toronto Bellwoods in 1943, and served as the Labour-Progressive member for that riding until 1951. MacLeod was also involved in the establishment of the Ontario Human Rights Commission in 1961.
Mrs. Virginia Macleod donated the fonds to the Archives of Ontario in 1985.
Fonds consists of records arising from MacLeod's political and advocacy activities, including correspondence, Legislative Assembly notes, speeches, press releases, biographical material, and printed material.
Materials in this fonds relate to various activities, topics and organizations, including: the Toronto-Bellwoods riding, the Atlantic Provinces Economic Council, the Canadian League for Peace and Democracy, the Civil Rights Union, the League for Democratic Rights, the Cooperative Commonwealth Federation, the Ontario Department of Education, various subjects in Canadian history, mining, the Ontario Human Rights Commission, the National Council for Canadian-Soviet Friendships, and the Trades and Labour Congress of Canada.
Fonds also includes photographs of MacLeod family members, Norman Bethune, areas of China and Russia, and of the Spanish Civil War.