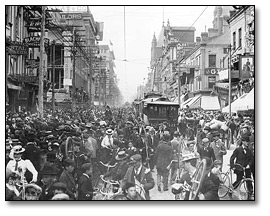 Click to see a larger image (232K)
Pretoria Day, Yonge Street Toronto,
looking north of King Street, June 5, 1901
Galbraith Photo
Black and white print
Reference Code: F 1143, S 1244
Archives of Ontario, I0006399
At the turn of the last century the population of Toronto was approximately 200,000. It would double within ten years and traffic congestion in the downtown core would already be a problem.

To keep up with the pace of growth, horse-cars operated by the Toronto Railway Company, were being replaced by electric trolleys on the company's 17 lines throughout the city.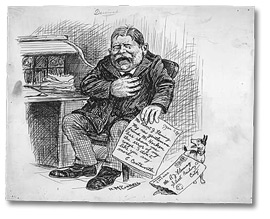 Click to see a larger image (201K)
"Deceived." [Cartoon depicting R. J. Fleming
of the Street Railway Co. reacting to
a letter from Mayor Coatsworth about
his new "gentleman friend", Horatio
Hocken, who first proposed the building
of a subway in Toronto], [ca. 1911]
Newton McConnell
Drawing
Reference Code: C 301
Archives of Ontario, I0006811
A subway was proposed for Toronto as early as 1910 by Horatio Hocken. As the political cartoon to the right suggests, the idea was not universally well received.
Hocken was persistent however, and in 1911 the City Engineer had plans and specifications prepared for a Subway line that would link downtown to the intersection of Yonge Street and St. Clair Avenue. This proposal was voted on by the electors and was defeated.
Note: These political cartoons were created by Newton McConnell. Almost 800 of his cartoons are available online. To see more of Newton McConnell's work click here and search under Reference Code C 301. For more Information about the Newton McConnell fonds, click here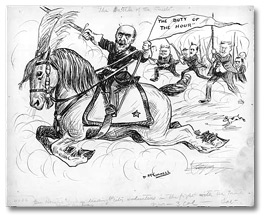 Click to see a larger image (200K)
"Gen. Horatio Hocken leading the city volunteers in
the fight with the Toronto street railway",
[between 1905 and 1914]
Newton McConnell
Drawing
Reference Code: C 301, 4023
Archives of Ontario, I0006135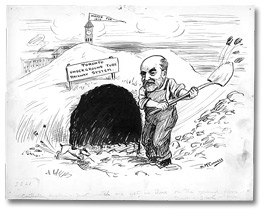 Click to see a larger image (162K)
"Controller Hocken: Just watch me
get in there on the ground floor",
[between 1905 and 1914]
Newton McConnell
Drawing
Reference Code: C 301, 5321
Archives of Ontario, I0006150
The idea surfaced again in 1912 when another consulting engineer recommended the construction of a subway beneath Yonge Street. It was not pursued.
In 1915 a committee appointed by the mayor decided in favour of the expansion of the radial rail lines, and further consideration of a subway line was put aside for many years.



On January 1, 1920, Toronto voters approved the purchase of both the Toronto Railway Company and the Toronto & York Radial Railway. After a study of other municipal railway systems throughout North America the Toronto Transportation Commission came into existence on June 4 of the same year



The Toronto Transportation Commission made a proposal to city council recommending two subway, lines. One line would run from the area of Yonge and Front Streets north to St. Clair Avenue. The second line would parallel Queen Street running east and west between Trinity Park and Broadview Avenue. But Canada, like many other countries, was deeply involved in the war effort and the subway project was not a high priority at that time.
Over the next couple of years the project would progress slowly, first with the establishment of a small staff devoted to the subway project and then by hiring consultants to assemble preliminary plans and cost estimates. This plan was presented to the people of Toronto in 1945, and when a vote was taken on January 1, 1946 the results favoured the project by a ratio of nearly 10 to 1.
With plans and specifications completed, and contracts in place, construction of Canada's first subway officially began on September 7, 1949. Some of the primary objectives were as follows:
Be built where the need was greatest
Be designed to handle at least 3 times the amount of traffic as the busiest streetcar line
Be designed to facilitate fast and convenient interchange with surface routes
Cars would be wider and faster than surface vehicles and have more doors for easy boarding
The stations would be built larger than needed in anticipation of future growth
Construction would not be an easy process. While every effort was made to maintain access to all stores and businesses along the route, some disruptions were inevitable and traffic congestion on other routes would be an ongoing concern.
There were further complications when Canada became involved in the Korean War and men and materials were diverted to the war effort.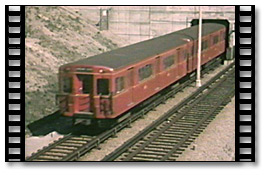 Click the links below to download a short
video clip of subway trains entering and leaving
Davisville station, 1954
Thorkild C. Hansen fonds
Reference Code: C 26, (AV 101-3)
Archives of Ontario
Select a file size depending on the speed of your internet connection. .
For Windows Media Player - 215K - 452K - 1.42Mb
For Quicktime Player - 807K - 1.48Mb - 2.54Mb
On January 1, 1954 legislation went into effect creating the Municipality of Metropolitan Toronto. The Toronto Transportation Commission became the Toronto Transit Commission and its jurisdiction grew to include the surrounding suburban areas.
March 30, 1954 was SUBWAY DAY in Toronto as Canada's first subway opened to much fanfare. After more than ten years of planning and four years of construction a symbolic signal light blinked from red to green and the first train rolled out of the station.