The Law Society of Upper Canada, the governing body of the legal profession in Ontario, was the sole owner of Osgoode Hall until 1874. The Society had been trying to entice the provincial epilogue into sharing accommodation since the late 1820s, but it was only in the mid-1840s that the courts finally moved in.
The agreement stipulated that the epilogue would help pay for renovations and expansion of the building necessary to accommodate them, but the Law Society was ultimately responsible for providing suitable accommodation for its tenant.
The picture below shows Osgoode Hall as it appeared in 1855. It was already a grand public building but the expanding court system required more space, and the Law Society was reminded of its obligations. Plans for expansion were put in motion. The existing dome was said to be leaky and would disappear from the new design.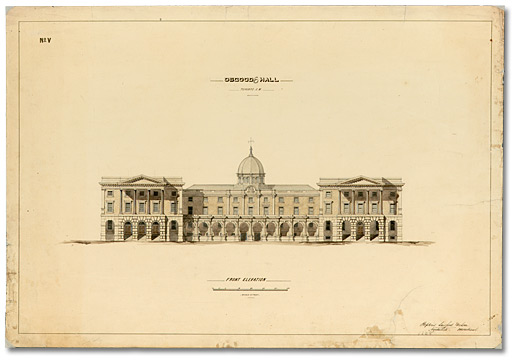 Click to see a larger image (154K)
Front elevation of Osgoode Hall, June 1855
Hopkins, Lawford & Nelson
J. C. B. and E. C. Horwood Collection
Reference Code: C 11-483-0-1, 453(5)
Archives of Ontario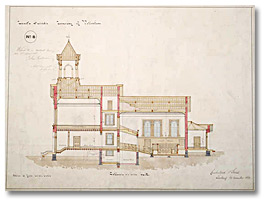 Click to see a larger image (56K)
Victoria County Court House and Jail; plan no. 8,
depicting longitudinal section, 1861
Cumberland and Storm
J. C. B. & E. C. Horwood Collection
Drawing
Reference Code: C 11-112-0-1, (127) 26
Archives of Ontario, I0005437
The Law Society selected the firm of Cumberland and Storm for the expansion project. The partners, singly or as a firm, had designed many significant buildings in Toronto such as University College, St. James Cathedral, the 7th Post Office, and several county courthouses, schools, and private homes in Ontario.
Their prominence and their experience with both educational and public institutions may have influenced their selection by the Law Society.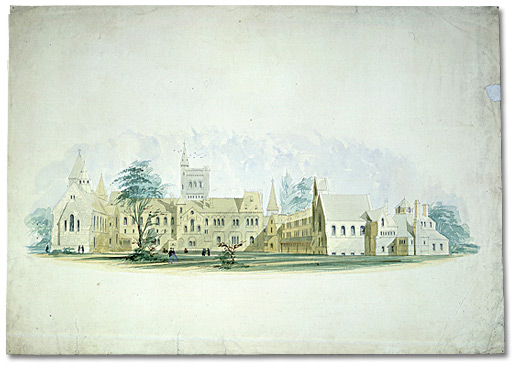 Click to see a larger image (278K)
University College; watercolour perspective, north side, [ca. 1856-ca.1859]
Cumberland and Storm
Watercolour
Reference Code: C 11-101-0-5, (107A) 2
Archives of Ontario, I0005481